Swipe to the left
Form and Function for Compact SUVs and Crossovers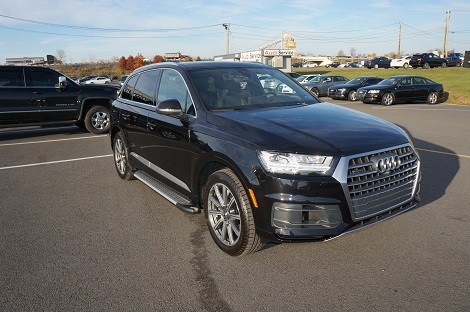 Modern compact SUVs and CUVs are quickly getting more and more capability in smaller packages. It's easier than ever to find a competent soft-roading ability in a package that's easy to live with day to day like the Audi Q5, new Volkswagen Tiguan, or Subaru Forester. You no longer have to deal with a truck-based vehicle and give up the car-like feel you're used to in order to drive rough roads.
But increased ground clearance can have some drawbacks when you're getting in and out. On some models like the Subaru Forester with almost 9 inches of ground clearance, getting behind the wheel could feel like climbing a mountain, especially if you're under six feet tall, carrying bags or a coffee mug for your morning commute.
Today's vehicle styling is often all about simplicity and sleek lines that keep the side panels free of the features that used to be commonplace on all sorts of cars and trucks. While it may not be hard to mourn the passing of features like pinstriping, gray body cladding, and edgy graphics packages, but you may find yourself missing a good set of running boards when you need to step up to get behind the wheel.
The Romik RAL series Running Boards solve the problem by giving you a sleek European design that looks OEM on all the compact SUV's and CUVs that are available today. Made from aircraft quality, triple wall aluminum with grip assurance technology, the patent pending RAL running boards set your vehicle apart from all the others with safety and style in mind. You can find a set of Romik RAL running boards to fit nearly any vehicle, from Domestic to Asian and European makes. Just choose your application and select the finish that you think complements your vehicle best!
Beyond giving a helping step up into your vehicle, Romik RAL running boards also give the added benefit of keeping your pant leg a little cleaner, especially in the winter. How often have you stepped out of your vehicle and had a mark on the back of your calf from touching the door sill that's covered in slush and road grime? Not only can it ruin a favorite pair of pants, but that stain can also ruin an otherwise professional look for a day at the office. You can also wipe mud or snow from your feet before you get in and keep your vehicle a little cleaner and a little more comfortable inside.
If you or your children have ever needed to jump up into your compact SUV or CUV, or had a hard time getting in with your hands full, check out the styling of the Romik RAL Running Boards. The modern styling and black end caps complement the look of any vehicle while giving you an extra level of safety and function. When you've found your application, you can use the site to find a dealer of Romik products, or purchase direct from the factory. If you have any questions about Romik Running Boards or need to ask questions about a vehicle application, fill out our Contact Form and we'll get in touch with the answers you need.