Swipe to the left
Romik Running Boards for Today's Trucks
By Hedges Company
2 years ago
1300 Views
1 comment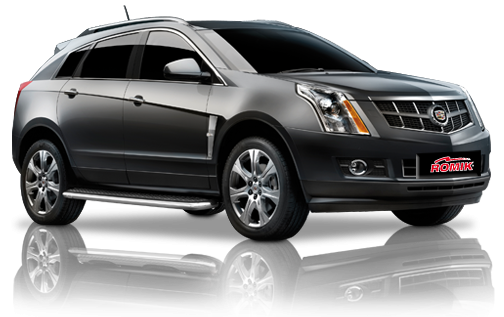 Romik running boards and step bars have remained one of the most popular truck accessories for decades for two main reasons: first, they make it easier for you and your passengers to get in your truck and second, they dramatically change the exterior style of every vehicle they're installed on. But with the aggressive styling of many modern trucks, it's hard to find a set of running boards that look like they belong. Usually, you'll end up with a functional running board that helps you in and out of the truck just fine, but the wrong design can easily make your new truck look out of date. Romik running boards and nerf bars use updated modern European designs that make it easy to bolt on extra utility without compromising the aggressive modern look of your truck.
The trend in modern pickup trucks and SUVs is all about aggressive styling with sharp angles and dramatic curves. Additionally, nearly every street in America has a luxury truck parked on it, a concept that didn't exist more than 20 years ago. But this new breed of truck still has increased ground clearance where a running board or side step would be useful. It used to be that a standard running board wasn't much more than a flat sheet of aluminum or steel over a simple frame that was more suited to a commercial van, but a design like that would look out of place on today's Ford F-150 or Chevy Silverado, and it would certainly ruin the look of luxury and refinement you get with a Cadillac Escalade.
Romik running boards solve that problem with sleek designs that make a simple step up into something that looks like it really belongs and doesn't ruin the design of your vehicle's manufacturer. The two most popular lines of Romik running boards are the RAL and RB2 side steps that we manufacture for nearly every vehicle on the road today. We also make the RAL-T and RB2-T variants specifically for pickup trucks because we don't believe in a one-size-fits-all approach to truck and SUV accessories. The Romik RAL and RB2 running boards have a smooth, flowing design that matches today's vehicles better than the designs in years past. Both designs start right behind the front tires and are tucked up tight against the body. They then smoothly widen under each door to provide a sturdy and wide step for every passenger before again tightening to the body before the rear wheel. Each model is available in either tough black or silver anodized aluminum finishes to match any vehicle.
But if you're looking for something a little more utilitarian, a sleek running board may not be for you. One of the most popular Romik running board options for off-road enthusiasts and those that are looking for a simple and easy way to climb in their truck or jeep, are the Romik Max Bar Side Steps. Originally, nerf bars were designed more to protect the lower edges of the truck body from large rocks or other vehicles while off-roading. But drivers quickly realized the functionality of such a bar and so the nerf bar side step has endured for decades. Like many of the original designs, the Romik Max Bar is made from 3-inch round tubing for a solid foundation and finished with our signature bullet shape at each end. Every model is available in either polished stainless steel or powder-coated matte black for a durable finish that won't scratch or fade. For most vehicles, no drilling is required, and you can even install them yourself at home in an afternoon.
While running boards themselves have been around for a long time, Romik running boards and step bars update the idea for the 21st century vehicles without trading utility for style.